40 Seater Mercedes Benz Bus Booking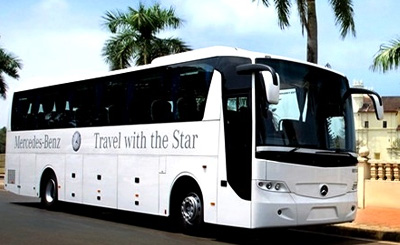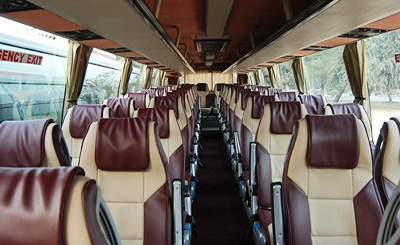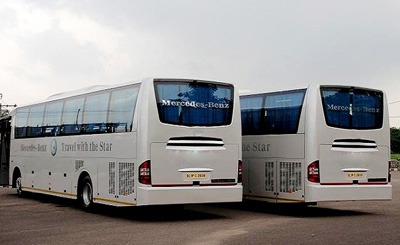 Bus Van Booking has added the finest fleet of Mercedes Buses on Rent/Hire in India. All through the years we have been gaining experience and improving our services delivery skills.
Bus Van Booking has a fleet of luxury 40 Seater Mercedes Bus for a group of 40 persons or less. All our coaches are top of the range and regularly maintained by our in house mechanics to an impeccable standard. Our fleet of Mercedes coaches is updated very often so that we can offer the latest models complete with up to the minute features. We do not comprise on quality and that is why we have top brand vehicles.
Mercedes buses are considered to be one of the finest options while traveling in a larger group. High quality bodybuilding and interiors, along with a high-performing driveline makes Mercedes, the right choice in inter and intra-city journey. Theses Buses offers exceptionally high levels of technical value, presentation and total cost-cutting measure, as well as comfort and safety. The melodiously color-matched interior and low interior noise level creates a pleasurable environment. Large decorated windows and a softly sloping floor ensure good visibility for all passengers.
We understand that travelling involves quite a lot of things. It takes a lot of preparation and dedication in order to make a journey successful. It is because of these many reasons that we have taken initiative to help our customers so that they can have an easy time planning for their journey. First of all, we ensure that we have a fleet that has allowance for different numbers like the 40 Seater, 42 Seater, 43 Seater, 44 Seater, 45 Seater Mercedes Coaches that we have.
We also offer other services such as accommodation, event booking as well as flight bookings. This way the travellers will have an easier time planning for their travel as we shall take care of most of the issues involved. However, these services are not mandatory but are only served at the request of the customer. However, if there is anything else beside the services we offer that the customers would want done for them, we always encourage them to tell us and we shall definitely do it for them. Nothing is too hard for us since we are the experts in this industry. It is our responsibility to serve you and that we shall do in the best way possible.
Bus Van Booking
fully understands the importance of keeping time. It is to this regard that we have taken it upon ourselves to ensure that we do not keep our customers waiting even for one minute longer. One can book with us through mail/sms/call at anytime of the day. We are very swift and we shall always arrive at the agreed time to serve you.